Hello and welcome to my Music website! 
My name is Colin Ryan Sandquist and I am a Music Performer / Video Game and Film Composer of many different instruments and styles. My goal is to collaborate with Film / Video Game Companies Worldwide. 
I love to compose music and perform different genres from classical to soundtrack scoring. 
I have been an active clarinetist and saxophonist since 2006. 
I have been an Active Composer since 2014. I am developing My Own Albums [See Artist Projects!] 
I am seeking to Write Music for Film Scores and Video Games! I seek to collaborate with Orchestra Too! 
Please feel free to contact me under the contact section.   Leave a name and number and I will get in touch with you as soon as possible.  I am also searching for an opportunity as a music writer.   
A Full Performing Biography, Awards   [From 2006-2022]      Can Be Downloaded Here 
A Future Performing Biography Etc.    [From 2022+]          Can Be Downloaded Here 
               ***Website was Getting Cluttered and it was easier to Download Previous information*** 
For now, explore the website and Feel Free to get in Touch for any possible Contracts.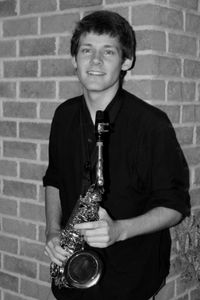 Academics + Honours + Commissions
University of Toronto / Dr. G.W. Williams
2011 - High School Diploma + Ontario Scholar + Honour Roll (2007 + 2009)
2016 - Bachelors Degree in Music / Minor Cinema Studies - Music Education (2016)
Composition Awards + Honours + Commissions
2011 - Entrance Scholarship University of Toronto Music Robin Elliot 
2016 - Winner - Kindred Spirits Symphony Orchestra                    [Composer in Residence - Symphony No.2]
2018 - Winner - U of T Orchestra + SCGC                               [Call for Scores - "Jane Dies"]
2018 - Winner - Dunedin Music Society                                 [Call for Scores - "Astrovelofruits"]
2019 - Winner - Atlanta Contemporary Ensemble                         [Call for Scores "Teslaclaw"]
2022 - Winner - VIFF AMP Music Festival Recipient